Mathane CNG Multipoint Sequential Injection System Conversion kits for 3 or 4 cylinder petrol car of EFI/MPI engine:

With this system installed, the car will run on either petrol or CNG, it's bi-fuel system, you can switch between both fuels.

1. CNG Sequential Reducer/Regulator, integrated with CNG high pressure Solenoid Valve
2. CNG Pressure Gauge
3. New version Mach Pro Gas ECU set, included Electronic control unit, Harness, Water Temperature Sensor, Micro-switch, T-Map Sensor.
The ECU support 11 languages: 1)English 2)Chinese 3)Polish 4)Russian 5)Thai 6)Turkish 7)Spanish 8)French 9)German 10) Dutch 11 Italian;
It is for 3/4cyls, not for 5/6/8cyls (another type);
4. Injector Rail-4cyls, 3cyls available;
5. Gas Filter: Installed after regualtor before injection rail, to filter the low pressure CNG
6. High pressure steel tubing: Dia 6mm* length 6m
7. Low Pressure Hoses
8. Mounting Fittings: Hardware etc. for connecting/fixing/sealing the autogas kits on car
9. Programming interface cable--At least 1unit is needed for new buyers, not necessary to buy if you had one yet; For ECU connect to computer to calibrate/program to reach a proper air-fuel ratio for cars of different power, It is special, other ones may not suit to our system.
10. Not Include Items here: CNG tank, tank valve, filling valve, tank brackets. (Too heavy to ship or may not suit to your local requirements)

Caution:
Do not install our kits for Ford Focus, unless you are an experienced installer who had tried before.

Fossil fuels is using out, cost higher and higher, how to do with existing gasoline/diesel vehicle?
LGC Provides you Complete solution: Bi-fuel/dual fuel conversion kit, installation guidance...

LGC Provide:
-- Bi-fuel systems for gasoline cars:
Sequential injection system kits, two types: suit to 3-4 and 5-6-8 cylinders injection cars;
Aspirated system kits suit to 4/6/8 cylinders injection cars, EFI as well as carburetor engines;
Do not suit to FSI (fuel straight injection) engines, nor diesel engines.
-- Dual fuel systems for diesel cars:
LGC's co-fuel systems for diesel car can replace 50-70% diesel by LPG or CNG, work great!
How to install the Methane CNG system gas Conversion kits in cars?
Please download Installation manuals and software via "Tech Support" or contact LGC:
(If you are a green hand of installing the gas kits--no matter LPG or CNG, recommend you take an overview of these installation pictures with instruction: The explanation would be much more clear to guide you install the gas kits.)

Methane CNG Sequential injection System Visualized Installation Diagram for reference(you can contact LGC for guidance any time if having questions during installation):
The new version ECU wiring diagram is little different with the below one.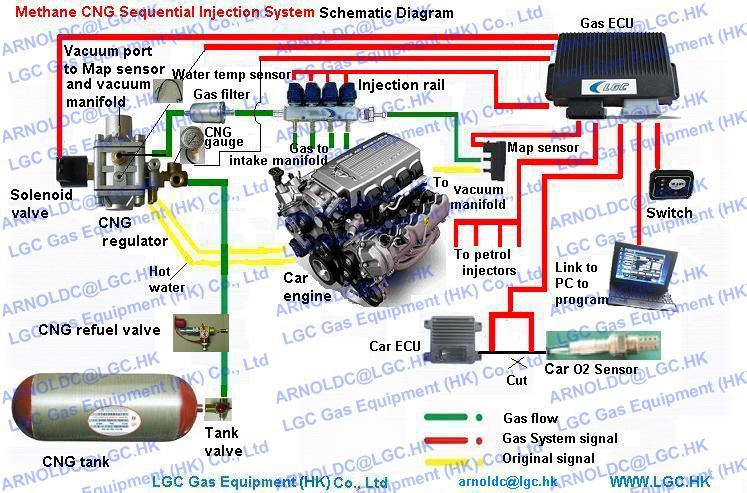 |Fossil fuels is using out, cost is higher and higher, how will you do with your current gasoline/diesel cars? Pay high cost for gasoline to use it now and get rid of it as wasted iron one day? No, the LPG/Propane CNG/Methane fuel will save you from this, convert your cars into bi-fuel system/start a gas conversion business/become a autogas equipment distributor now!!|